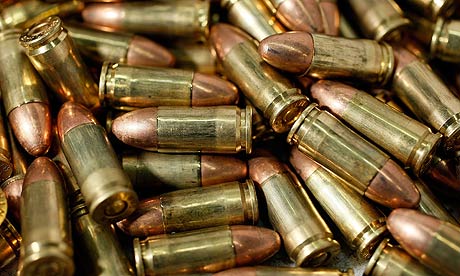 BANG. It is 2 am and in my dreamy haze I mutter about the neighbourhood kids setting off firecrackers at this time of the night. BANG. All of a sudden my eyes shoot open, my heart starts beating fast and the reality sets in that I am not in Canada. I am in Africa and the BANG is not firecrackers but gunfire. At the same moment I hear a frantic pounding from the guards on our window. "Mark, Mark! The guards need you. I hear gunshots"! Mark springs to action. Over the next 10 minutes we continue to hear shots piercing the quiet night sky. We find out the next day that a neighbour was robbed and a gunfight between the military police and the robbers ensued in the neighbourhood. This is not the first time this has happened but it was the first time we had personally heard the gunfight. We were glad to have a chance to review our emergency plan with our guards and friends. A dry run so to speak.
Our missionary group recently did an exercise where we filled out a stress questionnaire. We were asked to identify all applicable life events that we have personally experienced in the last 12 months. Categories included work, family, finances, health, education, cultural setting, living conditions, etc. A score higher than 300 indicates that a person is experiencing extreme stress and has a 90% chance of being hospitalized in the next two years as a consequence. Mark and I both scored over 600.
So why is it that I feel healthier than I have in years? Physically, mentally, and spiritually I am in such a good place even though the experts would say that I should be in the ICU or psych ward. I have done a lot of reflecting about this and I think it, in part, has to do with a few key things.
First, these surveys do not factor in the de-stressing effects of giving back, of doing things for others. Inside the fabric of who we are is an innate desire to feel purpose and to be needed. We can try to push this feeling away and bury it under the massive societal pressure to pursue personal pleasure and materialism; however, it is in the core of each and everyone of us.   When we are merely in the rat race in order to gain more, we will never truly be satisfied. There will always be someone with a bigger house, a nicer car, a better job, a nicer body, a better vacation, or a cooler hobby. That is the great deception of our self-centered society. The pursuit of personal pleasure satisfies for a moment and then it disappears and demands more, bigger, and better.  Being a part of the rat race is exhausting but fighting the rat race is equally exhausting. It is extremely stressful to pursue more but it is also draining to constantly be fighting the pressures everywhere to resist materialism. So when we give back I believe it fights this massive societal stressor in a few ways. It takes the focus off "me" and feeds that deeper need we have to participate in the greater good, to make the world a better place. Each of us has that inborn question "why am I here" and by helping others it satisfies that philosophical question by giving our lives purpose and meaning. It also makes it easier to fight materialism as we see those who have so much less. All of a sudden our petty desire for a bigger thing seems silly and it is so much easier to say "no thank you" to keeping up with the Jones'.
Since being in Madagascar I have had a massive emotional boost of being able to participate meaningfully and intensely in helping those who are in desperate need and extreme poverty. Talk about a powerful microscope on my life and what my priorities should be. My needs seem so insignificant compared to the needs of those all around me. My previous desires for nicer and better things now seem trite as I know and love people now who don't know where their next meal will come from. I feel released from the societal materialism weight I wasn't even consciously aware that I was carrying. It has been liberating, refreshing and a massive counter stressor.
The second big reason I think I am in such a healthy place is that I am so much more focused here. Back at home I was pulled in a million directions. I struggled with the word "No." I found myself involved in activities, even in the church, that were good things but were not the right things for me. I felt pressured to be and do it all and lost site of what my real giftings were. I committed to things sometimes half heartedly as I knew that they were not really what I was passionate about but they were good things and no one else was willing to do them. It left me completely exhausted and incapable of doing anything really well. I was burnt out and running on fumes.
Here I am absolutely involved in ministry. Everyday. BUT I am doing things that I am good at. Things that I am passionate about. I love teaching, I love obstetrics, I love mamas and babies and I love caring for those in poverty. Every day I get to do these things all at the same time. It fills me up and doesn't drain me because I love it. And I am focused. Here I am not pulled in a million directions. I know what I need to do, why I need to do it, and can focus all of my attention on doing it to the very best of my abilities.
The very biggest reason that I am not on death's door or in the psych ward is because I have also learned this year a very powerful and profound life lesson. I have learned to rely on God to provide for my needs, both big and small, physical and mental. I had fallen into the very common North America trap of self-reliance. I didn't realize I was functioning like this but I was. I was under the delusion that I was in charge and therefore every little struggle became a massive problem that I was carrying and staggering under the weight of. We knew we would experience a loss of income and huge expenses in order to go to Madagascar and so, instead of praying and trusting God to provide, I felt like I needed to take matters into my own hands and work extra shifts. I was working myself to death in an attempt to do things on my own. I didn't have faith that God could provide for my needs. I was too arrogant to allow God opportunity to provide for me. And so this year God ripped my ability to be "in control" from me. We came to a new culture, without identity, without an ability to speak the language, without our friends and family back home, without creature comforts and without any ability to be in control or to do things on our own. It was not possible for me to be self-reliant. As God literally stripped me bare in our first few months, an amazing thing happened. As painful as it was, I realized how incredibly free and at peace I felt. My self-reliance had been a sham. It was a figment of my imagination as I realized that the only reason I wake up every morning is because God decided to give me breath. We are all only one moment from catastrophe and it is by God's grace that we are here. All that my self-reliance was doing was burdening me, weighing me down and stressing me to the max. Now as stressors face me, I have such a peace knowing beyond a shadow of a doubt that God is in control. Bad things will happen but He knows what he is doing and will be there with me through it. I do not need to carry the weight of every day stressors. I am not really in control anyway. I can give them to my Saviour and let him carry me. And in doing so I have become so much more aware of the way that He works each and every day in my life. Not only have I been released from the intense stress of "being in control," I have now the powerful counter-stressor of seeing the hand of God working all around me.
I am starting to prepare myself for re-entry back into my old life. How will that look? How can I live in Canada but maintain my new-found health? I will need to fight the material temptation that will initially abhor me but that will slowly work its way back into my life. It will require that I continue to be involved in helping others, but with focus and purpose. I will need to say "No" more often but then pour more of myself into things that I am good at and passionate about. And most importantly I will need to stop pretending that I am in control. I will need to cling to God on a day-by-day, moment-by-moment basis. I cannot let myself get overwhelmed by the hardships, stressors and discouragements that I encounter but instead turn them right over to God to carry. If I can do these things then gunshots ringing out in the middle of the night right outside my home can happen and I can still wake up the next day feeling stress free and completely and totally at peace.